Packaged Gases Liquid Cylinders
Liquid cylinders offer a safer and more efficient gas storage solution than traditional high-pressure cylinders.
Portable Liquid Cylinders
DSW liquid cylinders are intended for only temporary use, not permanent mobile application installation. Explore DSW's Dura cylinder portfolio below and let us tailor a solution that best meets the needs of your business.
Vessel Gas Liquid Sizes and specification
| | | | |
| --- | --- | --- | --- |
| Pressure: | High | Place of Origin: | Zhejiang, China |
| Model Number: | GB24159-2009 | Material: | Steel |
| Material: | DSW | Use: | Industrial Gas |
| Water Capacity: | 175L | Working Pressure: | 2.3IPA |
| Test Pressure: | 4.6IPA | Certification: | GB24159-2009 |
| Color: | Customer's Requirement | Application: | Nitrogen |
| Name: | Dura Cy1inder | | |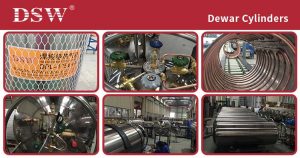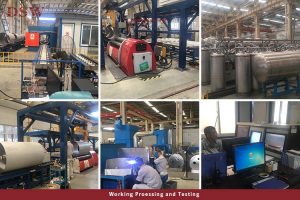 What are liquid cylinders?
Liquid cylinders are pressurized containers specifically designed for cryogenic liquids. Liquid cylinders let you withdraw liquid and gas. A dewar has valves for filling and dispensing the cryogenic fluid and a pressure-control valve with a brittle rupture disk as backup protection.
Product Highlights
Ideal for liquid nitrogen, oxygen, argon, CO2, or nitrous oxide
Different sizes, pressures, and features to meet your needs
Stainless steel construction
Patented durable, inner-vessel support system
Heavy-duty flooring and large diameter handling ring with four supports
Roto-tel liquid level gauge system (MP & HP models only)
Five-year vacuum warranty
'
Dewar Cylinder Design
The inner pressure vessel is constructed of stainless steel and supported within an outer stainless steel vacuum jacket. The support system is an all-stainless steel internal support designed for low heat leaks and high strength.
The outer vacuum jacket of the liquid cylinder contains an internal vaporizer that converts the cold liquid to gas.
The internal pressure-building system allows immediate use of the cylinder by automatically building pressure to the preset operating pressure and maintaining it during gas withdrawal.
Quality Manufacturing
Our experience and code compliance to ISO 9001:2008 and 14001:2004 ensure our liquid cylinders are manufactured to high-quality standards and on time.