Description
Ambient Air Vaporizers are relative uncomplicated heat exchangers which vaporize liquified gas by using heat absorbed from the ambient air.
Due to this simple principle of operation these vaporizers do not require external power.
Liquid gas passes through a number of interconnected tubes in various series and parallel paths.
Ambient air vaporizers are in operations in operation in a wide range of application throughout the industry.
Technical Data
| | | | | | |
| --- | --- | --- | --- | --- | --- |
| Item Number | Working Medium |       Design             Pressure              ( Mpa) | Working Pressure     (Mpa) | Design Temperature | Heat Exchange Area  |
| AV50/3.0 | Liquid Oxygen, Liquid Argon, Liquid Nitrogen | 3.3 | 3.0 | -196 to 50 degree | 12.5m2 |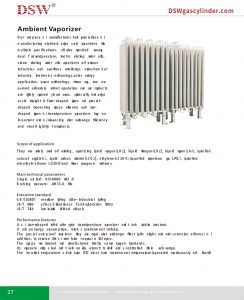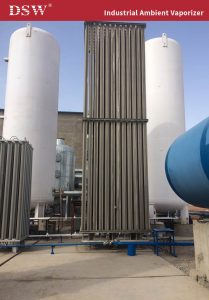 DSW™ ambient vaporizers have become the industry standard and Supergap vaporizers use natural convection of air to vaporize liquefied gases