Liquid Nitrogen Dewars – cryo dewars supplier
Established in 1998, DSW Industry has high-quality specialized liquid nitrogen dewars and cryogenic tanks, available in sizes ranging from a small 4″ flask to a sizeable horizontal tank that holds 500 liters.
DSW designs and engineers the perfect accessories for efficient cryogenic liquid nitrogen storage and transfer.
We provide easy, time-saving, and money-saving one-stop solutions in customer services for Nitrogen Dewar, Cryogenic Nitrogen Containers, Cryo tanks, and Liquid Nitrogen Dewars.
cryogenic nitrogen tank sizes
DSW Series Cryogenic Nitrogen Tanks
Ideal liquid nitrogen (LN2) tanks, these portable dewars work equally well with liquid oxygen and liquid argon for low-pressure transport & storage.
Liquid Nitrogen Dewars
Dewar Flasks
Open-mouth dewar flasks sized with 4″ to 96″ diameters and depths of 20′.
This flexible container has numerous options to be ideally suited to lab, industrial, or technical applications.
horizontal liquid nitrogen dewars
DSW Series Horizontal Cryogenic Storage Vessels
Horizontal liquid nitrogen dewars for low-pressure transport and storage of liquid nitrogen, oxygen, and argon.
Easy to move and conveniently accessible, they are ideal for interaction with LN2 liquefiers.
450L Nitrogen Liquid Dewars
Cryogenic dewars provide high-performance solutions for safely and securely storing large or small amounts of liquid nitrogen or other liquid gases safely and securely. Constructed with high-density materials for strength, these storage tanks can even withstand chemicals or corrosive liquids without issue; wide-mouthed openings allow easy transference or pouring without spillage of samples from storage.
Liquid Dewar Sizes
Model
DSW450-175-1.37
DSW450-175-2.3
DSW450-195-1.37
DSW450-195-2.3
DSW450-210-1.37
DSW450-210-2.3
DSW450-210-3.0
Nominal volume(L)

175

175

195

195

210

210

210

Effective capacity(L)

160

160

177

177

191

191

191

Dimension(diameter*height)

Φ510*1557

Φ510*1557

Φ510*1673

Φ510*1673

Φ510*1767

Φ510*1673

Φ510*1673

Working pressure (Mpa)

1.37

2.3

1.37

2.3

1.37

2.3

3.0

Safety valve open pressure(Mpa)

1.59

2.41

1.59

2.41

1.59

2.41

3.45

Bursting disk open pressure(Mpa)

2.41

3.6

2.41

3.6

2.41

3.6

5.17

Evaporation rate(Lin)(%/d)

<2.1

<2.1

<2.0

<2.0

<2.0

<2.0

<2.0

Empty weight(kg)

≈130

≈142

≈133

≈152

≈131

≈165

≈165

Max filling weight

(kg)

LO2

≈182

≈182

≈202

≈202

≈218

≈218

≈218

LN2

≈129

≈129

≈142

≈142

≈154

≈154

≈154

LAr

≈224

≈224

≈248

≈248

≈268

≈268

≈268

LNG

≈68

≈68

≈75

≈75

≈75

≈75

≈75

LCO2

—

≈188

—

≈209

—

≈225

≈225

Level gauge

Floating level

Floating level

Floating level

Floating level

Floating level

Floating level

Floating level

Surface treatment

Polish

Polish

Polish

Polish

Polish

Polish

Polish

Base type

Rubber base

Rubber base

Rubber base

Rubber base

Rubber base

Rubber base

Rubber base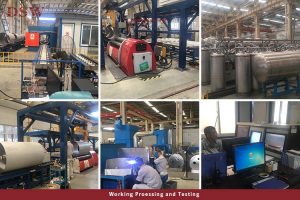 Inspection guarantee of cryogenic Dewars:
The relevant welding seams will be subject to 100% RT non-destructive testing and penetrant testing (PT) according to the technological requirements of storage tank production.
High-purity nitrogen (up to 99.999%) will be used for strength testing.
Finally, advanced helium mass spectrometer leak detectors (with precision up to 2×10-9Pa.L/s) will be used to conduct Helium mass spectrometer leak detection.
The inner containers of the storage tanks will be passivated by overall pickling to meet the cleanliness requirements for dangerous goods.
Imported ultraviolet black light lamps will ensure no oil stains and other organic impurities in the inner containers.
After cleaning, the inner and outer containers will be assembled at a time interval of less than 2.5 hours.
After assembling, the inner containers and interlayers will be filled with nitrogen to protect them from dust and organic impurities to ensure cleanliness.
The inner and outer surfaces of the outer containers will be subject to overall sandblasting treatment to meet the requirements of the Sa-2.5 standard.
When the surfaces of steel plates show a metallic color, a vacuum cleaner will suck off the dust adhered to the surface to ensure the vacuum degree in the interlayer further.
Special high-quality perlite is used as the insulation material in the interlayer.
The perlite will be treated using our company's unique process before being in the interlayer.
All the internal cylinders, after being manufactured, will be subject to gas-tight and pressure performance tests.
The internal and outer cylinders will be subject to rigorous Helium mass spectrum leak detection.
After production, all the pipe openings will be opened to carry out nitrogen purging and replacement to meet the oxygen usage standard.
After this, all the pipelines and valves will be sealed, and the tanks will be filled with 0.2MPa high-purity nitrogen to protect the tanks.
Cryogenic Dewar Systems for All Applications
Limitations have yet to be set regarding cryogenic applications, yet our equipment and talent have already found applications such as:
Industrial
Laboratory
Medical
Homecare
Biotechnology
Semiconductor
Superconductivity
Pharmaceutical